Better Living Through Biorobotics- NGGHBelugaDrone-2017
A Northrop Grumman Global Hawk and a Beluga whale form a cybernetic animal for national defense. In this speculative design a pod of genetically engineered Beluga whales function as an underwater border patrol guarding Canada's claim to the Arctic. The sculpture is a pod of 8 Beluga whales who have elements of the Global Hawk, and Hellfire missiles fused to their bodies. The design is a 3D print in bonded gypsum powder.
LookingIN-LookingOUT: NGGH-2017-
A wall installation of 4 framed mirrors using the Global Hawk as a design element for each of the stylized frames. Two of the frames have the Global Hawk pointing inwards towards the subject reflected in the mirror and two of the frames have the Global Hawks pointing outwards. The concepts surveillance and complicity of the subject are explored.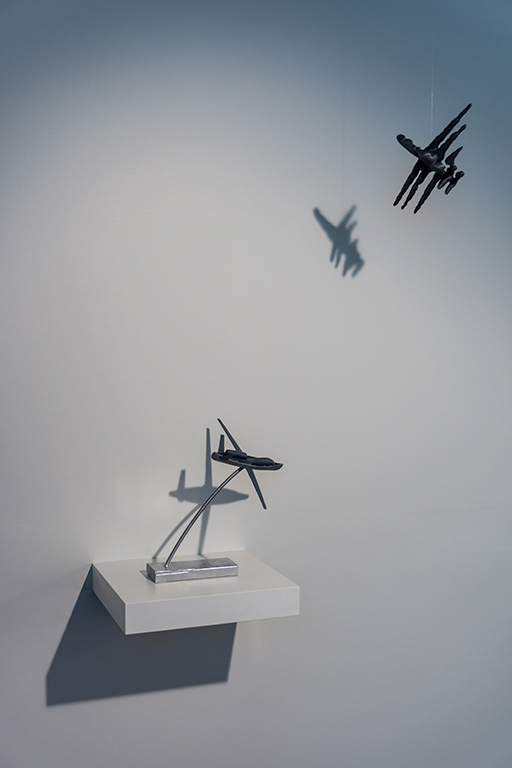 NGGHGC: NorthropGrummanGlobalHawkGrummanCanoe -2016-

A digital combination of a 3D model of the Global Hawk and a 3D model of a Grumman aluminum canoe, the work is 3D printed plastic and mounted as desk ornament. A full-size version of this sculpture is planned using a 15 foot Grumman canoe.
NGGHGlobalCloud-2017-

A 3D printed model of a 3D scanned Global Hawk model. A model of the Global Hawk was printed then scanned using a hand-held 3D scanner. In the process of scanning the model was moved, creating an incomplete scan of the object. The scan file was then imported into reverse engineering modeling software and a hole filling algorithm was run to put the model back together, the result is then printed out and hung in the gallery with its projected shadow.
All your CDN Base are Belong to U.S. 2015.

The title of this work is a play on a meme from the early 2000's, which has continued over time in different iterations. The meme originates from an inaccurate English translation "all your base are belong to us" for a 1989 video game titled Zero Wing. In this work, I comment on the close integration of the Canadian and American militarys which has existed for most of the 20th and continues into the 21st Century by referencing CDN and US bases in the meme. The sculpture is a speculative model based on images of radar stations built during the Cold War as the Distant Early Warning (DEW) line to detect Soviet bombers entering North American air space.